| | |
| --- | --- |
| History of the Ronick Herd - Bulls | |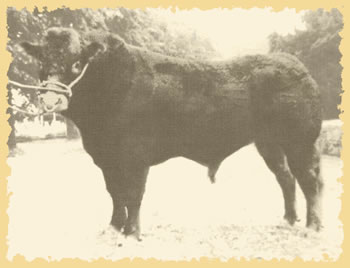 Oakley Tavy
Our stock bulls have been carefully selected throughout the years.

Our first stock bull Goldies Rascal by Osiris was first spotted as a prizewinner at the 1981 International Limousin Congress show. He was later purchased at Carlisle in October 1981 for 8000gns.

Our next herd sire Oakley Tavy was purchased at Banbury in October 1983 for 5000gns. He won 1 st Junior Bull RASE 1983 and 3 rd Intermediate Class RHS 1984. He was by Oakley Politician out of Oakley Princess who was sold to the USA for 35,000gns.

After drastically losing Tavy when a nail punctured his main artery in his stomach, we purchased a half share in Talent for 8000gns at the Uplands sale in 1986. Talent provided one of the highlights of David's career on the show circuit by winning Breed Champion at the Royal Show in 1988 and being a member of the Reserve Team for the Burke Trophy resulting in David meeting Princess Diana. Click here for photo,

Our next stock bull was Fleethill Ace who was 1st Junior Bull Class, Beef Recorded Class and Beef Indexed Class at the Royal Show in 1986 as well as being breed Champion at various local shows in 1987.

Next was Broadmeadows Cannon who was purchased form Matt Ridley privately in 1991 and is currently the most prolific pedigree sire in the Limousin breed having sired over 2600 calves to date. His first calf Ronick Hawk was sold privately to Genus in 1994 and is now the second most prolific sire in the breed having sired over 2100 calves to date. In 1992 we imported the French bred bull Gaspard he was the top scoring bull in Lanaud at that time and brought in a new bloodline to the herd. His most famous daughter is the renowned show cow Ronick Janita.

Our next stock bulls were two sons of Broadmeadows Ainsi namely Ronick Gains by Talent and Ronick Idol by Tarvis. Other stock bulls we have used to date include Ronick Aaron (an Oakley Tavy son), Calice (who was owned in partnership with John Powner), Allanfauld Eagle (a Talent son), Edwards Interest (purchased for 12,000gns), Newhouse Leigh (a Gaulois son purchased for 12,000 gns Perth Oct. 1996), Ronick Luke (a Broadmeadows Cannon son) and Goldies Porterhouse (a Malibar son).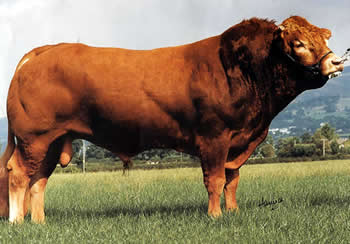 Ronick Hawk - sold to Genus
Current Stock bulls