| | |
| --- | --- |
| | |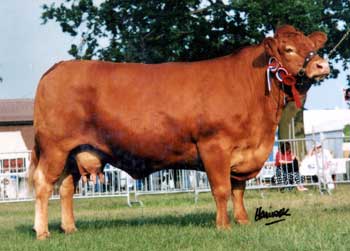 Broadmeadows Ainsi

was purchased for 8200gns at the first Broadmeadows Dispersal sale in November 1988.

She was an exceptional cow both in the show ring and for the Limousin Breed. At the start of 2004 she has had 11,363 descendants registered in the B.L.C.S. herd book.

In the show ring she won Reserve Female and Reserve Breed Champion at The Royal Highland Show 1989, Female and Breed Champion at The Royal Highland Show 1990, Female and Reserve Breed Champion at The Royal Highland Show 1991 and finally the star prize of Breed Champion and Overall Interbreed Champion at the Royal Show in 1991. The latter is an achievement that has not been repeated by a Limousin Female since.

She is mother and grandmother to a number of the most widely used sires in the Limousin breed today namely Broadmeadows Cannon, Ronick Hawk, Ronick Gains, Ronick Idol, Ronick Iceman and Ronick Member to name but a few.

Her daughters have also proved to be exceptional in their own right:
Ronick Hainsi

sired by Talent won the intermediate heifer class at both the Highland Show and the Royal Show in 1994. She is dam of Ronick Oklahoma (who is breeding exceptionally well in Northern Ireland for Mr H McFarland) and Ronick Shapely (purchased by Bob and Drew Adam for 8800gns at Carlisle Oct 2002). She is still breeding in the herd and has currently an excellent heifer calf at foot by Ronick Rocky.
3 Ainsi daughters namely Ronick Inkley, Ronick Nainsi and Ronick Redlady were sold to Mr J Goldie for his new herd after the Foot and Mouth epidemic.

Ronick McAinsi

sired by Talent holds the record for the top priced beef breed maiden heifer ever to be sold when she was sold for 28,000gns to Mr D. Mash at the Red Ladies Sale in November 1997. McAinsi has also done well in the show ring winning Champion Junior Female Royal Show 1997, Female Champion at the Royal Show 2003 and Breed Champion at the Royal Welsh Show 2003.

Ronick Fainsi

sired by Ronick Aaron has also bred exceptionally well with a number of sons being sold into Pedigree herds:

Ronick Onsi

a granddaughter still breeding in the herd has an excellent Ronick Luke bull calf at foot – Ronick USA.
We currently have six Broadmeadows Ainsi daughters in the herd as well as numerous granddaughters, great-granddaughters and great great granddaughters. Ainsi is a cow never to be forgotten.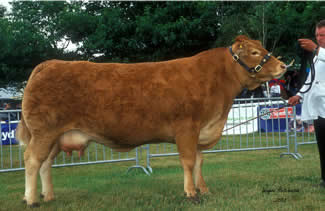 Ronick McAinsi
Sold at Carlisle for 28 000gns as a maiden heifer.
Champion Junior Female Royal Show 1997, Female Champion at the Royal Show 2003
and Breed Champion at the Royal Welsh Show 2003, Champion Female and Supreme Champion at the Royal Show 2004